In Baltimore City, many students are completing middle school with weak skills in math.  Even prior to the pandemic, only 10% of eighth graders scored in the proficient or advanced categories on the 2019 National Assessment of Education Progress (NAEP) tests. The challenges are apparent even before middle school, with only 20% of Baltimore students demonstrating mastery on the annual state assessment in 3rd grade. 
The University of Maryland Baltimore County (UMBC) Reach Together Tutoring Program (RTTP) launched in fall of 2021 to provide high-dosage mathematics tutoring for 350 students across four schools in South Baltimore and has already achieved remarkable success.
UMBC RTTP seeks to improve mathematics skills by utilizing research-based best practices to provide, personalized small group math instruction to students. The program recruits UMBC students to serve as mentor-tutors, pays them $18 per hour, and tasks them with increasing student achievement in 1:1 or 1:2 tutoring sessions.
The tutoring supports provided by the UMBC Reach Together Program follow some of the tutoring best practices outlined in Abell's report on Literacy Tutoring (March 2021) including:
Frequency: High-dosage tutoring is provided approximately 2 times per week, for 45-60 minute sessions for 24 weeks of the school year.
Tutoring Personnel: Tutors are undergraduate and graduate students trained by program staff with expertise in mathematics education. On-going training, support, and coordination is conducted in collaboration with UMBC via coursework and targeted training modules.
Data Use: Intensive data collection and analysis of formative and summative data points helps to measure progress, recalibrate, and ensure students are receiving support in the appropriate area.
Curriculum Materials: Tutoring sessions are designed to help students make the most of their current grade-level instruction by reviewing content covered in class and providing supplemental material and support aligned to identified pre-requisite skills.
Delivery: Tutoring is provided via small group using a 1:2 tutor to student ratio during a specified intervention block scheduled with each school.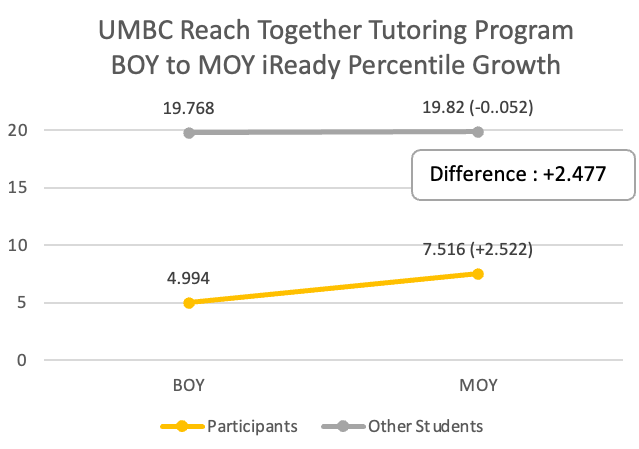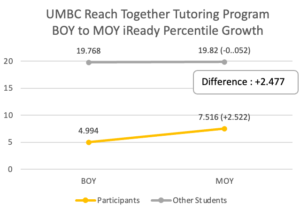 Initial outcomes have been very promising. Participating students have demonstrated growth in percentile rank from 4.994 to 7.522 from beginning of the year to middle of the year on the iReady assessment. When compared to the control group, which saw a percentile rank decrease of 0.52, participating students saw an estimated treatment growth of +2.477 percentiles.
Photos courtesy of the UMBC Reach Together Tutoring Program.