Read the New Abell Report - Costly Delays: Diagnosing and addressing operational delays in Baltimore's nonprofit contracting process
The Abell Foundation's Board of Trustees considers PRI requests five times per year. The proposal deadline and meeting schedule for 2023 is: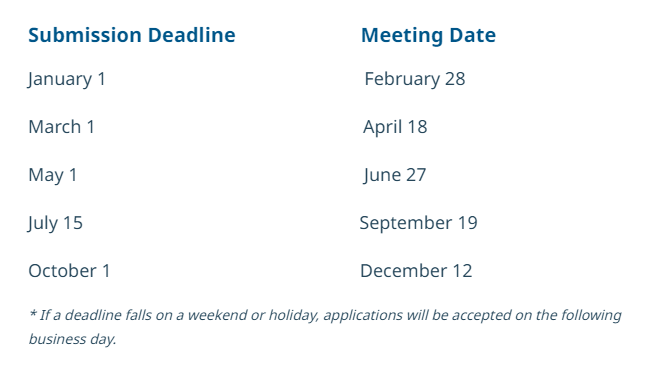 Applications
We accept and review PRI requests on the schedule outlined above. 

 

Once we have received your application, an Abell staff member may contact you with follow-up questions and/or request a site visit.

 

We notify applicants of all decisions made by the Board of Trustees within one week of each Board meeting.

Please note that we receive many worthy requests and unfortunately cannot support all of them. Organizations are welcome to submit multiple proposals if they are each for different projects during the same calendar year, but the Foundation has a policy of not reviewing repeat proposals for the same project within a calendar year.
Considering Applying?
We recommend that you reach out to a program officer or the Foundation president to discuss your idea.  
Otherwise, please submit a short letter of inquiry describing your project and the proposed budget. If the Foundation is interested in reviewing the project in greater detail, we will invite you to complete a full application.
Ready to Apply?
If you have discussed your project with an Abell staff member or received a positive response to your letter of inquiry, please click below to start an online PRI application for the submission deadlines provided above. 
Already started an application? Click here to return to your saved application.
Header photo courtesy of Plantation Park Heights Urban Farm.