Home to world-renowned medical institutions Johns Hopkins University and the University of Maryland system, Baltimore is awash with research talent and is a top recipient of federal funding for innovative medical technologies.
Converting university research projects into successful companies requires additional funding to produce scalable products, secure regulatory approvals, and commercialize the potentially life-changing technologies. Abell allocates a portion of its assets for investments in the most promising of these companies with the goals of improving health, growing jobs, and earning a strong financial return which can then be granted back out to Baltimore.
Advancing Innovative Medical Technologies, Supporting Baltimore Businesses, and Improving Health Outcomes
While ventilators have made the headlines since the start of the COVID-19 pandemic, researchers at the University of Maryland, Baltimore (UMB) had been targeting the challenge of providing better breathing support for some time.  Founded by Dr. Bartley Griffith in 2014, Breethe originally licensed its OXY-1TM technology from the University of Maryland, Baltimore, to improve the treatment and outcomes of people suffering from acute and chronic lung problems.  The current standard of care for patients suffering from severe lung issues are in-hospital breathing machines and heart-lung oxygenator machines which are too large and bulky to move from bedside use.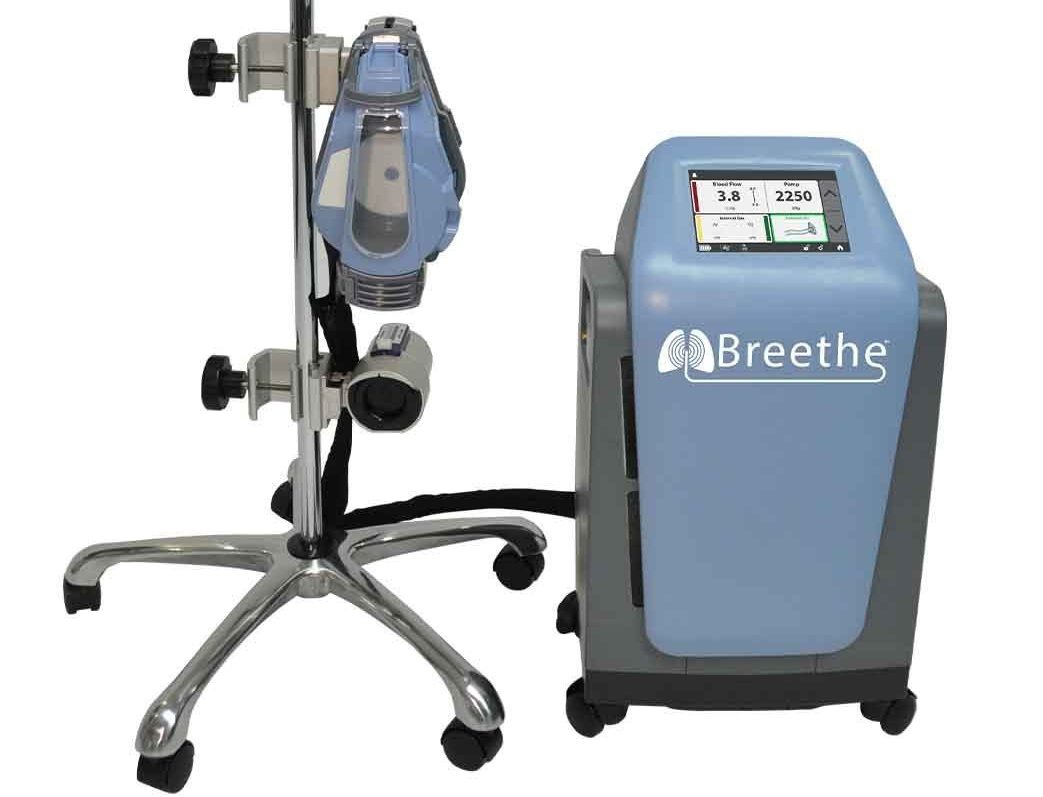 OXY-1TM is a compact, portable, external respiratory system connected to patients via tubes and works by recycling out deoxygenated blood and recycling back in oxygenated blood to the patient.
The initial research and development of the OXY-1TM technology was supported by a $5M award from the National Institute of Health (NIH). Recognizing a substantial patient need and compelling commercial potential, Breethe was established as a company and sought seed capital to grow. In 2015 and 2016, Abell leveraged a 50% Maryland biotech tax credit and invested a total of $750,000 in Breethe. The early capital funded the design of OXY-1TM and established a manufacturing facility in Baltimore.
The company progressed to a prototype used in animal studies and raised additional capital along the way to fund those efforts. In 2019, Breethe continued into its human clinical trials, attracting the interest and investment of, among others, Abiomed, a publicly traded company with a current market cap of $12.5 billion. Breethe used those funds to complete its clinical trials and FDA 510(k) application. And then the COVID-19 pandemic began.
In April 2020, Abiomed acquired Breethe, further validating the application and value of Breethe's OXY-1TM. Abiomed committed to maintaining Breethe's manufacturing in Baltimore and sees OXY-1TM as a driver for its growth in the coming years. Later in 2020, the FDA approved Breethe's 510(K) application, giving a green light to the safety and effectiveness of the OXY-1TM. A few months later, Abiomed's Breethe's OXY-1TM successfully supported its first patients as they moved out of bed to walking again in the hospital hallways.
Abell received over a four times return on its net investment in Breethe, and reinvested those proceeds into its grant funding portfolio. Breethe had accomplished just what Abell was rooting for it to do, bring good to humankind and, more directly, value to the City.
Images courtesy of Breethe.